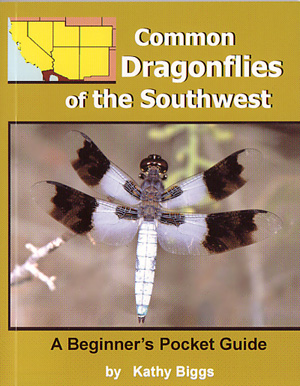 .tif file of cover .. updates/corrections 2010
SORRY - OUT OF PRINT


by Kathy Biggs
Azalea Creek Publishing
ISBN 0-9677934-1-6
160 pages.
Now you can identify all the common dragonflies and damselflies in Arizona, Nevada, Utah, New Mexico, Colorado & Northern California and ALL the species found in Southern California.
129 species of Dragonflies and Damselflies includes photographs of 96 of 109 CA, 87 of 88 NV, 83 of 90 UT, 81 of 99 CO, 91 of 117 AZ, & 99 of 112 NM species.
~350 full-color photographs
Photos of all males, most females. ALL new photos
Additional black & white line drawings illustrate damselfly appendages.
Includes descriptions of males, females, habitat, flight periods and distribution.
Checklist of ALL 189 SW species included.
Companion website shows more photos, descriptions, & links to geographic distribution maps.
Autographed by author!